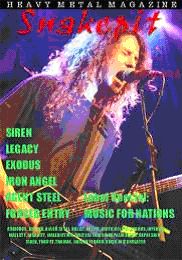 Snakepit magazine issue 13 is out! For those who are interested to read it (78 pages photocopied with colored cover entirely written in English) and features past, present and future Metal heroes such as AGENT STEEL,ARMOROS, BEYOND, BLACK STEEL, BULLET, BYFIST, DEATH MILITIA, EXODUS, FORCED ENTRY, INFERNAL MAJESTY, INSANITY, IRON ANGEL, JAG PANZER, LABEL SPECIAL (Music For Nations), LEGACY, MALEDICTION, MALTESE FALCON, NAPALM DEATH, REPULSION, SIREN, THRUST, TRAUMA, UNSEEN TERROR, VIXEN and last but not least, old Chicago heroes WITCHSLAYER!!!!!
Where else can you find filled with nothing but PURE MOLTEN Metal interviews!? If you miss the awesome early days of Metal Forces, Whiplash or Kick Ass Monthly, when you could discover promising, exciting new acts and read about mysterious past heroes, then be sure this last issue of Snakepit will fullfill your hunger!
You can order issue 13 (ONLY) from:
Laurent Ramadier
La Cailloterie
72210 Voivres Les Le Mans
France
Send CASH only (NO COINS) well hidden. I'd like to point out that in case you wouldn't receive the copy that you order, I have no responsibility into that at all, can't be blamed (postal service would be the only one to blame) and will not send another copy instead, I want to make this clear as it can happen unfortunately.
Prices:
European readers:
Issue 13 + air mail postage: 5 Euros
USA/ South American readers:
Issue 13 + economic postage: 7$/ 5Euros (note that it can take one month for the mail to come over)
Issue 13 + air mail postage: 10$/ 10 Euros
(Euros are preferred if you can make change at a local bank)
It might appears expensive but unfortunately postage rates are HIGH and in no case I want to lose a single cent with that issue. For more details write to
snakepit2@free.fr
Visit the updated site (finally!!!):
www.truemetal.org/snakepit/
Issue 12 is still available for 8 Euros (Europe or $11/10 Euros) (rest of the world)
BEFORE YOU ORDER PLEASE READ THIS:
I really hope that you guys who are gonna buy this new issue, will talk intensively around you about this, promoting it HEAVILY and what would be even better to guarantee a future to Snakepit would be to buy like four or five copies of it each of you and then selling them to your friends; a few readers did it with issue 12 (and I'm extremely grateful to them for that) but I wish everyone of you long time die hard readers would do it! After all you can get five copies for 20 Euros!
ISSUE 14 SHOULD BE OUT BY LATE DECEMBER!!!!! FILLED WITH MORE REAL METAL!
ALSO MAKE SURE TO SPREAD THIS E-MAIL AROUND YOU TO ALL THE BROTHERS AND SISTERS METALHEADS!!!!