A
ACCEPT - Eat The Heat
ACCUSER - Who dominates Who?
AEROSMITH - Pump
ALIAS - Metal To Infinity
ALL ABOUT EVE - Scarlet And Other Stories
AMULANCE - Feel The Pain
ANGKOR WAT - When Obscenity Becomes The Norm...Awake!
ANNIHILATOR - Alice In Hell
(CAN, Thrash Metal)
"Alice….Alison….Alice…. In Hell…WOW!!! Das Debüt der Truppe um Jeff Waters erschafft Superlativen. Hier wird einem auf höchstem Niveau die Fresse vermöbelt. Was für ein geiles Teil! Die Scheibe drückt, schiebt und zerstört alles was ihr in den Weg kommt. Diese Riffs, Läufe, Solos. Sagenhaft!"
(Hofi)
ANTHEM - Hunting Time
ANTHRAX - Penikufesin EP
ANVIL - Pound For Pound
ATHEIST - Piece Of Time
(USA, Technical Death/Thrash)
"Eine der hÜchsten Messlatten, die im technischen Death Metal je angebracht wurde. Bis heute ein Wegweiser in dem Genre, später wurde die Band immer progressiver und weitere Meilensteine sollten folgen..."
(Ohrgasm)
ATLANTA RHYTHM SECTION - Truth in a structured Form
AUTOPSY - Severed Survival
AXXIS - Kingdom Of The Night
B
BABYLON A.D. - Babylon A.D.
BAD ENGLISH - Bad English
BAD HABIT - After Hours
BADLANDS - Badlands
BANSHEE - Race Against Time
BARON ROJO - Obstinato
(Spanien, Heavy Metal)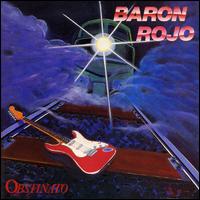 "Nach einigen guten, aber nicht sehr guten Alben enden die 80er in Spanien mit einem echten Kracher! Das letzte Album vor dem Zerfall des "klassischen" Line-ups reicht von der Qualität an den Welthit "Volumen Brutal" heran und darf keinem hispanophil gesinnten 80's-Metaller fehlen."
(StrongerThanEvil)
BARRACUD -Open Fire
BARREN CROSS - State of Control
BEAU NASTY - Dirty, But Well dressed
BELIEVER - Extraction From Mortality
BITE THE BULLET - Bite The Bullet
BLACK SABBATH - Headless Cross
BLIND GUARDIAN - Follow The Blind
BLUE MURDER - Blue Murder
BOLT THROWER - Realm Of Chaos
BONHAM - The Disregard Of Timekeeping
C
CANDLEMASS - Tales Of Creation
CARCASS - Symphonies Of Sickness
CHINA - Sign In The Sky
CLOVEN HOOF - A Sultan´s Ransom
COOPER, ALICE - Trash
CORONER - No more Color
CRIMSON GLORY - Lonely 7"
CRO-MAGS - Best Wishes
CZAKAN - State Of Confusion
D
D.A.D. - No Fuel Left For The Pilgrims
DALTON - Injection
DAMIAN - Stop This War
DANGER DANGER - Danger Danger
DANGEROUS TOYS - Dangerous Toys
DARE FORCE - Fire Power
DA VINCI Back In Business
DBC - Universe
DEATH SS - Black Mass
DECIMATOR - Carnage City State Mosh Patrol
DELIVERANCE - Deliverance
DELIVERANCE - Evil Friendship
DELTA REBELS - Down In The Dust
DEMON - Taking The Worlds By Storm
DIVING FOR PEARLS - Diving For Pearls
DOMAIN - Before The Storm
DOOM - Incompetent....
DREAM THEATER - When Dream And Day Unite
D.R.I. - Thrash Zone
DRIFTER - Nowhere To Hide
E
ENUFF Z'NUFF - Enuff Z'Nuff
EVILDEAD - Annihilation Of Civilization
EXCEL - The Joke´s On You
F
FAITH NO MORE - The real Thing
FAITH OR FEAR - Punishment Area
FASTER PUSSYCAT - Wake Me When It's Over
FATES WARNING - Perfect Symmetry
FIFTH ANGEL - Time Will Tell
FINAL AXE - Beyond Hell's Gate
FM - Tough It Out
FORBIDDEN - Raw Evil ... Live At The Dynamo (live)
FORCED ENTRY - Uncertain Future
FREHLEY, ACE - Trouble Walkin´
G
GAMMACIDE - Victims Of Science
GIANT - Last Of The Runaways
GOD DETHRONED - Bloody Blasphemy
GRINDER - Dawn For The Living
H
HARLOT - Room with a View
HEAVENS GATE - In Control
HEAVY PETTIN' - Big Bang
HEIR APPARENT - One small Voice
HELSTAR - Nosferatu
HOLOCAUST - The Sound Of Souls
HOLY MOSES - The New Machine Of Liechtenstein
I
ICON - Right Between The Eyes
IQ - Are You Sitting Comfortably?
J
JACKAL - Cry Of The Jackal
JETHRO TULL - Rock Island
JONES, STEVE - Fire And Gasoline
JUNKYARD - Junkyard
K
KILLERS - Resistances
KING DIAMOND - Conspiracy
KINGDOM COME - In your Face
KING´S X - Gretchen Goes To Nebraska
KISS - Hot In The Shade
KREATOR - Extreme Aggression
L
LÄÄZ ROCKIT - Annihilation Principle
LADY SABRE - Enchanted
L.A. GUNS - Cocked & Loaded
LAST CRACK - Sinister Funkhouse#17
LEATHERWOLF - Street Ready
LILLIAN AXE - Love + War
LION - Trouble In Angel City
LITTLE ANGELS - Don't Prey For Me
LIVING DEATH - Worlds Neuroses
LIZZY BORDEN - Master Of Disguise
LOUDNESS - Soldiers Of fortune
LUKATHER, STEVE - Lukather
M
MANDATOR - Perfect Progeny
MANIA - Changing Times
MANIAC - Look out
MARILLION - Seasons End
MASS - Voices In The Night
MASTEDON - It's a Jungle Out There
MCAULEY SCHENKER GROUP - Save Yourself
MEKONG DELTA - The Principle Of Doubt
METAL CHURCH - Blessing In Disguise
METAL MESSIAH - Honour Among Thieves
(UK, Thrash Metal)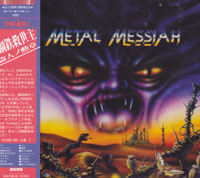 "B-Liga Thrash aus England, der gerne mal Ăźbersehen wird....und das zu unrecht, wie ich finde. METAL MESSIAH brachten es leider nur auf ein Album (und zwei Demos), hatten aber ein paar richtig flĂźssige Nummern mit aggressiven Riffs und coolen Refrains am Start. Leider ist die Produktion nur Durchschnitt."
(Pavlos)
MILITIA - Fiend Of Misery
MR. BIG - Mr. Big
MIND OVER FOUR - Mind Over Four
MITCHELL, KIM - Rockland
MÖTLEY CRÜE - Dr. Feeldgood
MOLLY HATCHET - Lightning Strikes Twice
MONROE, MICHAEL - No Fakin'It
MOORE, GARY - After The War
MORBID ANGEL - Altar Of Madness
MORDRED - Fool's Game
MORGOTH - Resurrection Absurd
MORTAL SIN - Face Of Despair
N
NAPALM - Cruel Tranquility
NASTY SAVAGE - Penetration Point
NECRODEATH - Fragments Of Insanity
NEW MODEL ARMY - Thunder & Consolation
NEXT - Silencio Nocturno
NUCLEAR ASSAULT Handle With Care
O
OBITUARY - Slowly We Rot
OLIVER MAGNUM - Oliver Magnum
ONSLAUGHT - In Search Of Sanity
ORACLE - Oracle
(UK, Melodic Rock/Metal)
"Aus Gibraltar stammten ORACLE, die Ende der 80er mit ihrem einzigen Output ein überragendes, aber leider total unbeachtetes Stück Classic Metal schufen. Dass die Band nach Veröffentlichung des Albums auseinanderbrach, kann nicht am Material der Jungs gelegen haben, zu stark klingen die stets hochmelodischen Songs, welche mal an US Metal (´Murder In The Streets´), mal an frühe SCORPIONS erinnern (´Never Want To Cry´), und beim abschließenden Longtrack ´Killer Queen´ gar alte, Hansen fronted HELLOWEEN vor das geistigen Auge zaubern."
(Pavlos)
OSSIÁN - Félre Az Útból
OVERKILL - The Years Of Decay
P
PARADOX - Heresy
PARIAH - Blaze Of Obscurity
PELL, AXEL RUDI - Wild Obsession
PESTILENCE - Consuming Impulse
PINK CREAM 69 - Pink Cream 69
POKOLGÉP - Éjszakai Bevetés
POWERMAD - Absolute Power
PRETTY MAIDS - Jump The Gun
PROPHETS OF DOOM - Access To Wisdom
Q
R
RAGE - Invisible Horizons EP
RAGE - Secrets In A Weird World
RAGING SLAB - Raging Slab
RAMONES - Brain Drain
RA PARIAH - Apollo Ra
REGATTA - Regatta
REPULSION - Horrified
REVEREND - Reverend
RISK - Hell´s Animals
RISK - Ratman
RUNNING WILD - Death Or Glory
RUSH - Presto
S
SABBAT - Dreamweaver
SACRED WARRIOR - Master´s Command
SAINT VITUS - V
SALEM´S LAW - Tale Of Goblins' Breed
SANCTUARY - Into The Mirror Black
SAVATAGE - Gutter Ballet
SCANNER - Terminal Earth
SCARECROW - No Reason To Be Sad
SEMPITERNAL DEATHREIGN - The Spooky Gloom
SEPULTURA - Beneath The Remains
SHADOW KING - Shadow King
SHARK ISLAND - Law Of The Order
SHOCKSPLIT - Under Wraps EP
SHOU - T In Your Face
SHY - Misspent Youth
SIGNAL - Loud & Clear
SILENT RAGE - Don't Touch Me There
SKID ROW - Skid Row
SLAMMER -The Work Of Idle Hands
SODOM - Agent Orange
SODOM - Ausgebombt 12"
SOUNDGARDEN - Louder Than Love
STAGE DOLLS - Stage Dolls
STEEL PROPHET - Inner Ascendance (Demo)
STEVENS, STEVE - Atomic Playboy
STRANGEWAYS - Walk In The Fire
STRIKE TWICE - Strike Twice
T
TAD - God´s Ball
TANGIER - Four Winds
TERRORIZER - World Downfall
TESLA - The Great Radio Controversy
TESTAMENT - Practice What You Preach
THE CULT - Sonic Temple
(UK, Hard Rock)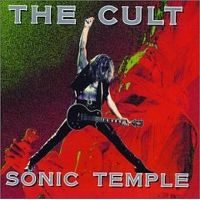 "Gute Laune Hard Rock der leicht und locker mit griffigen Riffs und tollen Melodien zu überzeugen weiß. ´Sweet Soul Sister´, ´Fire Women´ oder das rockigere ´Wake Up Time For Freedom´ sind die perfekte Untermalung für einen schönen Sommerabend."
(Hofi)
THE HORDE OF TORMENT - Product Of A Sick Mind
THE NOW - Overnight Stay
THUNDERHEAD - Behind The Eight Ball
TITAN FORCE - Titan Force
TNT - Intuition
TORMENTOR (HUN) - Anno Domini Demo
TORTURE - Storm Alert
TOXIK - Think this
TOXIN - Aphorisms
TRAMONTANE - Tramontane
TREAT - Organized Crime
TT QUICK - Sloppy Seconds
TYRRANICIDE - God Save The Scene
U
U.D.O. - Mean Machine
V
VAIN - No Respect
VENGEANCE - Arabia
VENOM - Prime Evil
VICTORY - Culture Killed The Native
VOIVOD - Nothingface
VOODOO X - Vol. I: The Awakening
VOW WOW - Helter Skelter
W
W.A.S.P. - The Headless Children
WATCHTOWER - Control And Resistance
WHIPLASH - Insult To Injury
WHITE LION - Big Game
WOLFSBANE - Live Fast, Die fast
WRATHCHILD AMERICA - Climbin´The Walls
(USA, Groove/Thrash Metal)
"In mehreren Spielarten des Metals beheimatet (den Großteil des Materials würde ich als groovenden Thrash bezeichnen), tight as fuck eingezimmert und mit ein paar richtig abgefahrenen Ideen versehen kommt dieses kultige Album um die Ecke. Neben dem verspielten Opener ´Climbin´The Walls´, dem treibenden Hammer ´Hell´s Gates´und der Power Metal Hymne ´Day After The Thunder´ sticht die coole Version von PINK FLOYD´s ´Time´ hervor."
(Pavlos)
X
XENTRIX - Shattered Existence
XYZ - XYZ
Y
Z