A
ACCEPT - Balls To The Wall
AC/DC - Flick Of The Switch
ACE LANE
ACID - Maniac
ALCATRAZZ - No Parole From Rock´N Roll
ALIEN - Cosmic Fantasy
ANGEL CITY - Night Attack
ANVIL - Forged In Fire
ARC ANGEL - Arc Angel
ASHBURY - Endless Skies
AXE - Nemesis
AXEWITCH - The Lord Of The Flies
B
BARON ROJO - Metalmorfosis
BATTLEAXE - Burn This Town
B.E. TAYLOR GROUP - Love Won The Fight
BISCAYA - Biscaya
BITCH - Be My Slave
BLACKFOOT - Siogo
BLACK SABBATH - Born Again
BLASPHEME - Blaspheme
BLUE ÖYSTER CULT - The Revölution By The Night
BODINE - III
BULLET - No Mercy
BUSH, STAN - Stan Bush
C
CHATEAUX - Chained And Desperate
COBRA - First Strike
CONEY HATCH - Outta Hand
CULPRIT - Guilty As Charged
CUTTY SARK - Die Tonight
D
DEATH DEALER - Demo´83
DEF LEPPARD - Pyromania
DEMON - The Plague
DIAMOND HEAD - Canterburry
DIO - Holy Diver
(USA, Heavy Metal)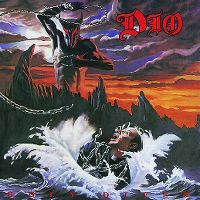 "Nach ELF, RAINBOW und BLACK SABBATH will es Ronnie James Dio nun zum ersten Mal selbst wissen und verÜffentlicht mit "Holy Diver" sein erstes Soloalbum. Und was soll man sagen? Wie nicht anders zu erwarten, hat er ein Meisterwerk fßr die Ewigkeit erschaffen. Wenn nach Auflegen der Platte das Riff von ´Stand Up And Shout´ ertÜnt, ist alles zu spät. ´Holy Diver´, ´Gypsy´, ´Caught In The Middle´, ´Don't Talk To Strangers´, ´Rainbow In The Dark´, ´Shame On The Night´, hier reiht sich Hymne an Hymne. So mancher Musiker wäre froh, wenn er auch nur einen Song dieser Klasse schreiben kÜnnte. Danke Ronnie!"
(Hofi)
DOC HOLLIDAY - Modern Medicine
D.R.I. - Dirty Rotten EP
E
EUROPE - Europe
EVO - Animal De Ciudad
EXCITER - Heavy Metal Maniac
F
FASTWAY - Fastway
G
GENESIS - Genesis
GIRLSCHOOL - Play Dirty
GRAN FUNK RAILROAD - What´s Funk?
GRAND PRIX - Samurai
GREAT WHITE - Great White
GRIM REAPER - See You In Hell
H
HAWAII - One Nation Underground
HANOI ROCKS - Return To Mystery City
H BOMB - Coup De Metal
HEAVEN - Where Angels Fear To Tread
HEAVY LOAD - Stronger Than Evil
HEAVY PETTIN - Lettin Loose
HELIX - No Rest For The Wicked
HELLANBACH - Now Hear This
HELLHAMMER - Death Fiend Demo
HELLHAMMER - Satanic RItes Demo
HELLHAMMER - Triumph Of Death Demo
HELLION - Hellion 12"
HIGH POWER - High Power
HOLOCAUST - Live (Hot Curry & Wine)
I
INDIGO - A Collection Of Tales
IQ - Tales From The Lush Attic
IRON MAIDEN - Piece Of Mind
J
JAG PANZER - Tyrants
JAGUAR - Power Games
JOURNEY - Frontiers
K
KARISMA - Sweet Revenge
KILLER DWARFS - Killer Dwarfs
KISS - Lick It Up
KIX - Cool Kids
KROKUS - Headhunter
L
LADY KILLER - Lady Killer
LOUDNESS - The Law Of Devil's Land
LOVERBOY - Keep It Up
M
MAGNUM - The Eleventh Hour
MANILLA ROAD - Crystal Logic
MANOWAR - Into Glory Ride
(USA, True/Epic/Heavy Metal)
"Kann man Männer in Fellunterhosen und mit Schwertern ernst nehmen? Nein! Können diese seltsamen Typen gute Songs schreiben? Definitiv ja! Wer etwas anderes behauptet ist nicht bereit für den Metal zu sterben. Diese Scheibe ist so episch, dass selbst der größte Ignorant zu Staub zerfällt. Also greift euer Schwert, reckt es in den eisigen Wind und wählt euren Platz an Odins Seite!"
(Hofi)
MARILLION - Script For A Jester´s Tear
(UK, Neoprog)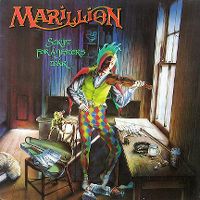 "Auf diesem Debut ist alles vorhanden was das geneigte Herz schneller schlagen lässt: Tolle Arrangements, zauberhafte Melodien, Fish's wahnsinniger Gesang und die perfekte Harmonie zwischen Text und Musik. Nach solch einem genialen Debut kann es eigentlich nur bergab gehen."
(Hofi)
MERCYFUL FATE - Melissa
METALLICA - Kill´Em All
MILITIA - The Sybling
MINDLESS SINNER - Master Of Evil
MOLLY HATCHET - No Guts...No Glory
MOORE, GARY - Victims Of The Future
MOTÖRHEAD - Another Perfect Day
(UK, Heavy Metal)
"MOTÖRHEAD, eine Band der Superlative trifft auf Brian Robertson (Ex-THIN LIZZY). Ein Line-Up das lange Zeit verachtet wurde und nur dieses eine Album zustande brachte. "Another Perfect Day" ist das vielleicht vielseitigste und melodiöseste Album von Motörhead. Und mit ´Dancing On Your Grave´ ist mehr als nur ein Hit der Superlative vorhanden. Alles in allem ist "Another Perfect Day" wirklich so ein Album, das einem perfekte Stunden bereiten kann."
(Hofi)
MÖTLEY CRÜE - Shout At The Devil
MSG - Built To Destroy
N
NIGHT RANGER - Midnight Madness
O
OBSESSION - Marshall Law
ORPHAN - Lonely At Night
OSTROGOTH - Full Moon´s Eyes
OVERDRIVE - Metal Attack
OZ - Fire In The Brain
OZZY OSBOURNE - Bark At The Moon
P
PANDEMONIUM - Heavy Metal Soldiers
PANTERA - Metal Magic
PICTURE - Eternal Dark
PRETTY MAIDS - Pretty Maids
PREVIEW - Preview
PRISM - Beat Street
Q
QUEENSRYCHE - Queensryche EP
QUIET RIOT - Metal Health
R
RAGE - Run For The Night
RAINBOW - Bent Out Of shape
RAT ATTACK - Rat Attack
RATT - Ratt
RAVEN - All For One
RAVEN - Born To Be Wild
RIOT - Born In America
RITUAL - Widow
ROCK GODDESS - Rock Goddess
ROCK GODDESS - Hell Hath No Fury
ROY LAST GROUP - Goodtimes Ahead
S
SACRED BLADE - Demo II
SAGA - Heads Or Tails
SARACEN - Heroes, Saints & Fools
SATAN - Court In The Act
SAVAGE - Loose´N´ Lethal
SAVATAGE - Sirens
SAXON - The Power & The Glory
(UK, NWOBHM/Heavy Metal)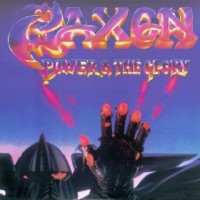 ""Can you feel the glory? Can you feel the power? Is it with you tonight?" Vor rund 30!! Jahren stellten Biff Byford und seine Mannen diese Frage zum ersten Mal. Und immer wenn ich diese Zeilen auf Platte oder live höre, möchte ich die Faust in den Himmel recken und ganz laut JA schreien. Nach den sehr starken Vorgängerscheiben hat es "The Power & THe Glory" schwer, sich unter den ersten fünf Alben zu behaupten. Aber mit dem Titeltrack, ´Redline´, ´Warrior´ und ´The Eagle Has Landed´ sind einige unglaubliche Songs vertreten, welche es auch heute noch (größtenteils) immer wieder ins Live-Repertoire der Band schaffen. "
(Hofi)
SILVER MOUNTAIN - Shakin´Brains
SIX FEET UNDER (S) - Six Feet Under
SLAYER - Show No Mercy
SLEDGEHAMMER - Blood On Their Hands
(UK, NWOBHM)
"Die Scheibe gehört für mich definitiv zu den interessantesten Scheiben aus der NWOBHM Ära, wird hier doch 70er Boogie Rock mit rauhem Metal verschmolzen und ab und an mit progressiven Elementen angereichert."
(Pavlos)
SORTILEGE - Sortilege
SPARTAN WARRIOR - Steel´N Chains
STEEL ASSASSIN - From The Vaults
STEELER - Steeler
STORMBRINGER - Stormbringer
STREETS - Streets
STYX - Kilroy Was Here
SUICIDAL TENDENCIES - Suicidal Tendencies
SURVIVOR - Caught In The Game
T
TANK - This Means War
THE RODS - In The Raw
THIN LIZZY - BBC Radio 1 Live In Concert
THIN LIZZY - Life: Live
THIN LIZZY - Thunder And Lightning
38 SPECIAL - Tour De Force
THOR (Can) - Unchained EP
THUNDERFIRE - Thunderfire
TNT - TNT
TOKYO - San
TOKYO BLADE - Tokyo Blade
TORCH - Torch
TRANCE - Power Infusion
TRASH - Watch Out
TRIUMPH - Never Surrender
TURBO (UK) - Charged For Glory 7''
TWISTED SISTER - You Can´t Stop Rock´N Roll
220 VOLT - 220 Volt
TYRANT (UK) - Hold Back The Lightning 7''
U
UFO - Making Contact
URIAH HEEP - Head First
V
VANDENBERG - Heading For A Storm
VAN HALEN - 1984
VENOM - At War With Satan
VIRGIN STEELE - Guardians Of The Flame
VIXEN - Made In Hawaii
V/A - Metal Massacre III
V/A - Metal Massacre IV
V/A - Pure Overkill
V/A - U.S. Metal Vol. III
W
WARLORD - Deliver Us EP
WAYSTED - Vices
WILD DOGS - Wild Dogs
WILDFIRE - Brute Force And Ignorance
WILDLIFE - Wildlife
WITCHFINDER GENERAL - Friends Of Hell
WITCHFYNDE - Cloak & Dagger
X
Y
YES - 90125
Y&T - Mean STreak
Z
ZEBRA - Zebra
ZZ TOP - Eliminator
(USA, Hard/Blues Rock)
"Die Liste der Klassiker auf diesem Album ist fast so lang, wie die Bärte der beteiligten Musiker. Und das will etwas heißen. Mit unglaublichem Gefühl und Groove wird hier gerockt, bis auch der letzte Ignorant anfängt mit dem Fuß zu wippen."
(Hofi)